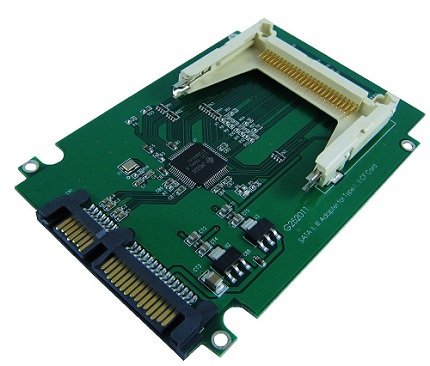 CB947MA is an interface adapter between SATA and CF Card Bus PATA interface standard. After assembled, it can run in variety of operating system. such as DOS, Windows 95, 98, XP, 2000, Vista, Win 7, Linux, Unix, and so on.
CB947MA allows CF Card as a system disk to boot OS directly, no request the H/W driver installation.
CB947MA doesn't affect the execution speed of CF Card.

1. Full complaint with SATA revision 2.6
2. 3.3 Volt and 1.8 Volt power system
3. Support ATA / ATAPI-7 specification
4. ATA / ATAPI-7 Ultra DMA Mode 0,1,2,3,4
5. 3.3 Volt mini PCI-e SSD support
6. Mini PCI-e 52-pin Connector
7. Support following form factor of mini PCI-e SSD dimension :
TYPE I CF Storage Card Physical Specifications :
| | |
| --- | --- |
| Length : | 36.4 ± 0.15 mm |
| Width : | 42.80 ± 0.10 mm |
| Thickness Including Label Area : | 3.3 ± 0.10 mm |
Type II CF Storage Card Physical Specifications :
| | |
| --- | --- |
| Length : | 36.4 ± 0.15 mm |
| Width : | 42.80 ± 0.10 mm |
| Thickness Including Label Area : | 5.0 ± 0.10 mm |

Serial ATA Reversion 2.6------------------------------------------------------------------->February 2007
ATA/ATAPI-7------------------------------------------------------------------------------------- >April 2004
CF+ and Compact Flash Specification Revision 4.1-------------------------->February 2007

The adapter connects to the Host PC in the same way that a 2.5 SFF SSD drive is connected using a SATA cable. It may be used in any application where a SFF SSD drive may be used:

1. desk-top PC            
2. Internet Appliances
3. Kiosks               
4. Industrial Computers
5. Routers              
6. Firewalls

Datasheet Download :
 

  CB947MA.PDF



 

   CB947MA (繁體中文).PDF



 

   CB947MA (简体中文).PDF
 

   CB947Mx Series.PDF